Opening times
Elsecar workshops are open all year round except Christmas Day, Boxing Day and New Year's Day. Individual shops and businesses have varying opening times.
Monday - Sunday, -
Elsecar, Barnsley, S74 8HJ
Elsecar Heritage Centre
Guided tours every Saturday and Sunday Explore the village and discover more about the fascinating history of Elsecar on this guided tour.
Experience what it was like to live and work in Victorian Elsecar in this astonishingly detailed digital reconstruction. Fly through ironworks, collieries,workshops and village streets, surrounding by beautiful Yorkshire countryside. See Earl Fitzwilliam speaking to his workers, iron puddlers by their furnaces and the families who lived on our canal.
The Mute Still Air – a film by Ed Carter and Grimethorpe Colliery Band
The Mute Still Air is a sculptural sound installation, musical instrument, and graphic score project by artist and composer Ed Carter, performed with Grimethorpe Colliery Band, and filmed by James Lockey.
Originally commissioned for Elsecar Heritage Centre, the piece reflects on the significance of social responsibility within a brutal commercial industry, taking inspiration from the cultural impact of Benjamin Biram's pioneering engineering work at the Elsecar coal mine in South Yorkshire.
Find out more about the instalation here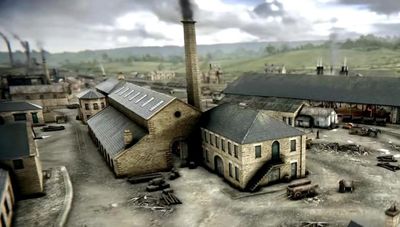 A stunning digital reconstruction of the historic village of Elsecar has been highly commended at the Museums + Heritage Awards in the category of 'Best Use of Digital'.